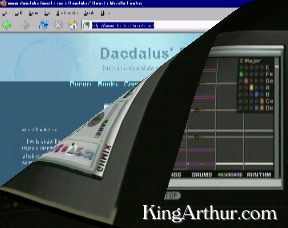 The Album: Play The Game
Find out more about this gaming music.
This is the first album we recorded using the Guitar Hero World Tour Music Studio. Since it was the first time I tried it, the songs are pretty garage bandish. For instance, I hadn't figured out how to change the scale, so they are all in the key of E. But, that is rock and roll! Just play the game.

PreLewd was the very first time I ever used the Guitar Hero Studio. It's just a little taste for both you and me. There is only one track - guitar. The rock n' roll innuendo insinuated in the title was on purpose. Yeah, know? Trying to keep the excitement of rock alive!


Guitar Hero uses drum and bass loops with lead guitar. It just seemed like the first full length song should be self-titled.


Turn on is another double entendre title -- get turned on when you turn on video game. Thus, the incorporation of more risqué animation in the music video.


I Am Just Playing is probably my favorite song on the first album. It was the first time I felt "in the groove" in the studio. It is also a more complex arrangement making us feel more compelled to produce a more complex music video.


Crowd Control was the first collaboration with a young female Guitar Hero. Though she doesn't play the real guitar, she did really good writing and recording this little ditty.


Mudman is probably one of the best gamers I know. Though he usually plays first person shooter games, like Call Of Duty, he can also play on Guitar Hero's expert mode (even though he is not a musician.) On our first collaboration, he gives lead guitarists a challenge. His gamer tag is Hiddensniper. Keep an eye out for him.


Finally Finale is the last song on the first album.