Home | Contact Us | KindVonMir.com "Child Of Mine"
"We like you, have tasted love.
Don't be alarmed at what you see.
You yourself are just the same
As what you see in me."
-- Peter Gabriel

2001: A Space Rock Odyssey
Some Free Multimedia Stuph
(please click here for help on viewing Internet multimedia)
The Colony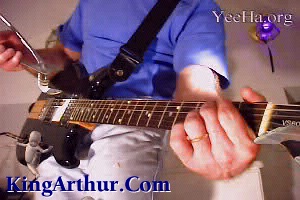 Sammy "Sech" Echeverry
guitars, Spanish, animation, video production

Alexandre Therrien
drums, guitars, bass, sitar, keyboards, French, cinematography

Digital Yoda
keyboards & piano, guitars, bass, harmonica, bowed and stringed instruments, brass, flute, percussion, midi, English; light, sound and motion engineering & production


Sidd
scientific mumbo jumbo, animation, fractals, MPEG and Linux motion picture production
Michael "Skis" Beaudry
drums, speed, producer of live events
Capn'
drums, animation, video production
Wally Urbanavage
guitars
Bob
Bass
David
heavy equipment, power tools, demolition, speed and money
Krishna
guitars and percussion
The Children
Danielle
song & dance, acting, modeling, animation, and video production

Chris
photography, pyrotechnics, animation and video production

Others
Many children help with the video productions, including Stevie, Hillary, Sara, Mike Jr., and Steph.

Assistant Producer: Jay Seuss
Executive Producer: Al Matee

---
© 2000 King Arthur Records Publishing Company
These graphics, images, text copy, sights or sounds may not be used without our expressed written consent.