Contact KingArthur.com
This website runs on Linux!
KingArthur.com is many things, including the first world wide web IQ test (circa 1994.)
You have 165 seconds.
Kid's Menu | Music & Fun Stuph | Games (Without Frontiers) | The Hypocritical Oath | Thank You!
About The Legend Of King Arthur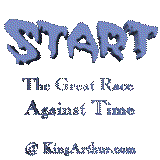 (click here to start)
She left the web, she left the loom,
She made three paces thro' the room,
She saw the water-lily bloom,
She saw the helmet and the plume,
She look'd down to Camelot.
Out flew the web and floated wide;
The mirror crack'd from side to side,
"The curse is come upon me," cried
The Lady of Shalott.


-- Tennyson
Lord Alfie
---
Our combined mission is to make sure that our children's children's children have a planet to occupy.
Children's Crisis Management Plan
Thank you for your generosity.